As the weather turns warmer, and we pull out our shorts and tank tops, it is easy to want to wear the least amount of clothing as possible in order to avoid sweating and the possible heat stroke. But as I walk around downtown and spot other girls, I can't help but shake my head at the clothing that they are wearing. Instead of cute sundresses that are printed and flowy, they are instead dressed scandalously in shorts that accentuate and show their butt cheeks, and cropped tops that are look-a-likes to bras. What ever happened to respecting your body?
Though I know this post may receive controversy regarding the whole feminist movement, I dare to say that there is still a way to show off your body without showing TOO much. Women and girls DO have the right to wear what they want, but instead of getting questionable looks, why not be complimented on your sense of style while still respecting yourself?
* * *
HOW TO: CROPPED TOPS
Don't get me wrong, I love occasionally wearing cropped tops. Paired correctly, they can look casual yet flirty. But recently, I have been seeing girls wearing these tops with shorts that can be mistaken as denim underwear. A key rule into wearing cropped tops is to make sure that whatever bottoms you're wearing it with that at MOST 2 inches of your stomach is showing. Anything more than that is showing off too much skin, and you in turn look un-classy.
Here are 3 of my go-to cropped top looks:
Look No.1: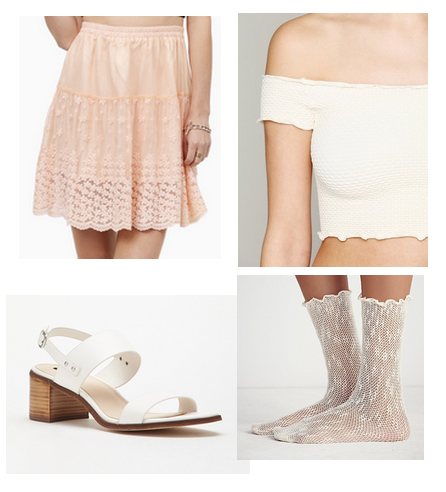 Outfit Details //
Top: Urban Outfitters
Shorts: Forever 21
Arm Cuff: Urban Outfitters
Shoes: Forever 21
* * *
HOW TO: SUMMER SHORTS
I am a huge supporter of shorts year 'round. But for some reason, when summer rolls around, butt cheeks become an accessory, and legs tend to become more scandalous. Why? Because short-shorts are -- for some odd reason -- trendy. But in the eyes of someone who follows fashion like it's no-one's business, booty shorts are un-classy and anything but fashionable. Instead of wearing "denim underwear" this season, try your hand at flowy shorts or denim cutoffs instead. Here are some of my favorite short outfits:
Look No.1
Outfit Details //
Tank: Free People
Shorts: American Eagle
Shoes: Forever 21
Floppy Hat: Forever 21
* * *
So instead of following the "let-me-wear-as-little-clothing-as-possible" trend, opt for summery pieces that cover your body but still keep you cool. And in order to stand out from the crowd of scandalously dressed girls, jazz up your look with fun accessories that add class and style.
Show me your favorite summer styles in the comments below, or tag me @brunettewithabudget on Instagram!