Whether you live somewhere where it is already 60 degrees, or -- like myself -- you live somewhere where it is snowing one day then warm enough to tan the next day, spring is upon us. As someone who is not a fan of bright colors and pastels, shopping is sometimes a struggle. But lately, I have seen outfits full of monochromatic neutrals (my holy grail) and outfits with just a touch of "spring" in them. So if you're like me, and are still stuck in dark colored clothing from the long winter, then don't worry, I'll help you along the way with creating outfits that still incorporate your favorite winter pieces but add spring flair.
My Spring Fashion Favorites
Joggers:
The easiest, comfiest, and trendiest pair of pants to wear right now. They flatter all body types because they don't cling to your body. In addition, they fall in a "straight leg" sort of fashion allowing your entire leg to look slim and long. My favorite way to wear this type of pant is with a cropped swing top that adds dimension and fullness.
My favorite pairs of joggers are from... here, here, and here
White Jeans:
Everyone says that white jeans cannot be slimming unless you're an 100 pound runway model... but I find that extremely UNTRUE. With a good scavenger hunt and an open mind, white jeans can look good on everyone if you find the right pair. The key to buying the right pair of white jeans is to go a size bigger... yes a size bigger. If white jeans are clinging your legs, it looks unflattering. White jeans especially show everything, so if you have a little more room, you're able to not only breathe but look slim and trendy for the spring!
My favorite pairs of white jeans are from... here, here, and here
Tunic Dress:
As you may know, I adore slip dresses, but recently, I have been loving tunic dresses. You might be confused on the difference of them both, but there IS a noticeable contrast. Unlike slip dresses, tunic dresses don't cling to your body as much as slip dresses do. Because of this, your skin can breathe easier, especially on warmer days. In addition, since school is still in session, most tunic dresses are made with thicker tank top straps, some even made with sleeves, so they're dress code approved. My recommendation is to not buy a cheap tunic dress, this is the type of piece that you want to splurge a bit on for both quality and uniqueness. Since the tunic dress is a signature piece and one that I guarantee you'll be wearing all season, you want to make sure that the material is nice, so pass on those 100% polyester dresses that will become uncomfortable and won't flow after you wear and wash them. Instead, opt for one that is 100% cotton or made with rayon or silk; added comfort, added flow.
My favorite tunic dresses are from... here, here, and here
Peplum Top:
Since joggers (for those who don't run) have recently been in the midsts of fashionistas everywhere, it's important to find a top that can dress up these trendy pants. My favorite way top has recently been peplums. Though they went out of style for a while, they've been recently making a comeback in the form of denim and chiffon. The reason I love wearing these tops with joggers is because they flare at the bottom in a way that accentuates your waist. This is extremely important, especially when wearing pants that are a bit baggier, because they still allow you to look feminine and put together. Since not everyone will gush over a lace peplum, materials such as cotton and denim are a great alternative to look for when finding a peplum top that fits your style.
My favorite peplums are from... here, here, and here
Easy Blouse:
Everyone has lazy days. Even a fashion obsessed blogger like myself. But instead of resorting to sweats and a hoodie, tee-shirt blouses are the way to go. Pairing longer and looser blouses with white jeans is an easy combination. It gives you the ability to look put together and sophistication, while knowing in the back of your mind that you spent all of 5 minutes throwing together the outfit. My favorite blouses are made out of rayon -- or silk if your bank account allows it -- because they look expensive and feel great on your skin. For those days where you just want a simple, minimalistic looking outfit, opt for a solid colored blouse, but for those days where you want to amp it up, throw on a printed blouse. Either way, you can't go wrong.
My favorite tee shirt blouses are from... here, here, and here.
* * *
Every put-together outfit needs a spring fresh makeup look to compliment it. Recently, I have been turning to some of my makeup favorites to keep my complexion dewy and my eyes bright.
My Spring Beauty Favorites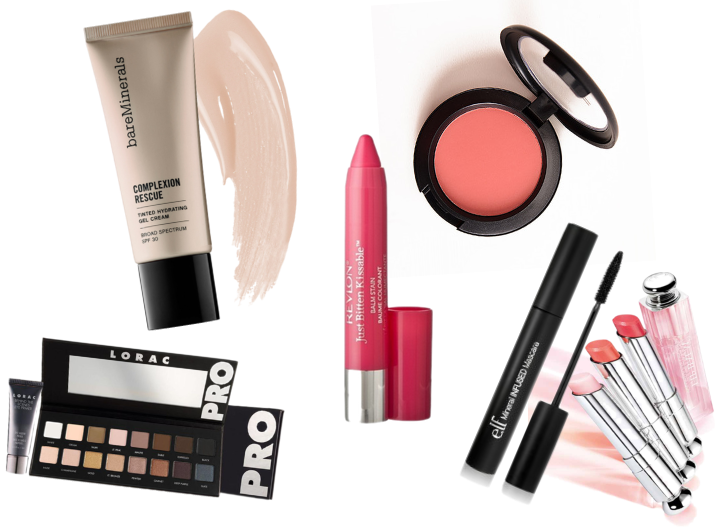 BB Cream:
Nothing says a fresh face like a smooth, even complexion. In most cases, I favor a BB cream over a foundation because of the light and airy feeling that it brings to my face. With the right brush and stippling technique, you can have your face looking flawless and smooth without the "cake" in a matter of minutes.
My favorite BB creams are... this, this, and this
Lip Crayons:
Adding a pop of color is just as much of a necessity in the spring as having your windows rolled down in your car. Though lip color can occasionally seem like a fall and winter trend, I beg to differ. Lip crayons allow a smooth and accurate application of the product, creating a lightweight and clean look. When choosing the perfect spring shade, stick with coral and pink tones, but veer from red and purple undertones. If you find the perfect color that has the right amount of intense and the right amount of SPRING, use daily for a pop of color that will give your face a new look that is spring ready.
My favorite lip crayons are... thisand this
Powder Blush:
Cream blush was a huge trend this past winter, but in the springtime, I am more of a powder blush fan. Since powder has the ability to be buildable, you're able to achieve a light color on your cheeks without overdoing it like cream blushes do. My favorite springtime blushes have undertones of peach. When applying the blush, use an angled brush, and start at your cheek bones and swirl on the product as you make your way to the apples of your cheeks. This application allows for a glowy and natural look.
My favorite powder blushes are... this and this
Mineral Infused Mascara:
Clumpy and spidery-like eyelashes should have never been a trend. Recently, on models and celebrities, I have been seeing long, wispy eyelashes that seem as though they don't have a bit of mascara on them. Since not everyone can afford eyelash extensions or a high-tech eyelash curler, my favorite, and ONLY mascara that I will ever recommend is only $3 at Target. It is the ELF Studio Mineral Infused Mascara. This mascara is, well, infused with minerals. Because of this, when applied to your eyelashes in light coats, allows your eyes to look doe-y and bright.
My favorite mineral infused mascara is..this
Eye Shadow:
Eye shadow is obviously a year-round trend. But in the springtime, you hardly see anyone with a deep smoky eye. Spring is all about letting your pinks and creams to ignite your look. So when applying eye shadow, stick to more neutral shades, but add definition with light browns. From my favorite palette, the Lorac Pro Palette, I start by taking the color mauve and lightly applying it to my crease. Then, I take the color light pink and lightly pat over the rest of my lid. This color combination is perfect for spring and allows your eyes to look big and open.
My favorite eye shadow palette's are... this and this
* * *
If you buy or try any of the clothing or makeup that I mentioned, PLEASE Instagram me the picture @brunettewithabudget, I would love to hear from you! If you haven't already, make sure you SUBSCRIBE to my blog for updates.