Just a few weeks ago, I was in New York City. It is hard to believe, because the four days that I was there flew by so fast. But none-the-less, it was an experience that I will never forget. Since I went with my school's Fashion Merchandising class, I was able to attend many seminars that I wouldn't have been able to go to if it weren't for my school. Though not everyone will be able to experience what I did that week, this post is to share with you what I learned, saw, and had an amazing time doing. So sit back, relax, and WELCOME TO NEW YORK.
* * *
DAY ONE:
Meeting Elizabeth Gillett and Renee Dumarr, Times Square, and Carmines
The first stop in New York was the GOTHAM SHOPPING TOUR. This tour consisted of meeting famous designers and learning their merchandising, marking, and designing tips and strategies.
The first designer that my class met was Elizabeth Gillett; a scarf designer for brands such as Anthropologie and Free People. We had the honor of being able to view her show room, and let me tell you, it was one of the most intriguing experiences ever. Unlike your typical retail store or boutique, show rooms have much more going on and are full of more than just the product: there were workers designing scarves, creating scarves, and working on marking ideas. But, at the same time, Elizabeth was able to show off her work similar to a boutique and teach us her different secrets. Since she is a scarf designer, she showed us so many unique ways to tie scarves to not only make them useful for your neck, but to create into a kimono, a head wrap, and much more!
The second designer that we met was Renee Dumarr, a previous designer for Chanel. After breaking away from designing for Chanel, Renee decided to start her own line as well as open her own show room. As I was looking around through her creations, I noticed pieces that looked extremely similar to those of Chanel's designs, and I realized that some of Chanel's most famous tweed-like pieces were actually created by Renee. My class was able to learn a different aspect and love in the fashion industry from Renee: fabric making, a passion of Renee's. It was interesting to see how Renee took her love for creating threads and fabrics and going on from there to create actual garments.
Next, we had a lovely dinner in Times Square, at an Italian restaurant called Carmines. Unbenounced to myself and the rest of the group, this restaurant was family style, meaning that the food kept coming... and more than you would think!! We were filled to the tops of our stomachs with pastas and salads and breads and dessert! It was super tasty. Since our group couldn't finish all of the food that was given to us, we decided to doggy-bag it and hand it out to homeless people around Times Square, something that I think was super heartwarming and something that I had never done before! We weren't going to eat the food, so instead of throwing it out, we were able to feed those who needed it the most.
DAY TWO:
Patricia Field, Black Bridal Bliss Blogger, Ellen's Stardust Diner, Blue Man Group
On the second day, I had more adventures, meeting some pretty incredible people. I had the honor of meeting Patricia Field, designer for Sex and the City and Devil Wears Prada. She was a fun, energetic and enthusiastic designer. Not only did she share her love for fashion with us, but she also taught us about herself and being a designer.
Later that night, we ended up going to dinner at a diner called Ellen's Stardust Diner. If you're not familiar with it, it is a diner where people striving to be Broadway stars work. Throughout your dinner, they sing to you and everyone else in the restaurant! It's a great way to end a stressful night. After dinner, we went to see Blue Man Group, and SURPRISE, we had FRONT ROW SEATS! It was a great show, and also my first time seeing them! Since we were in the "poncho zone" we were given ponchos so that paint and other funky substances wouldn't ruin our clothing... it was a fun way to end an eventful day!
DAY THREE:
Photo Shoot, Brooks Brothers, Kinky Boots
To start of day three, we had the experience of a lifetime! We were invited to fashion photographist, Dorothy Shi's studio in Soho. There, we were able to style male models and shoot them in our very own fashion photo-shoot. Though it was a lot of work (which, at one point, a stab my finger ALL THE WAY THROUGH with a clothing pin), it was extremely beneficial. We were taught how time is VERY precious when dealing with models, because they charge almost $250 an hour. We were also taught how to style the models so that the clothes that they are wearing look neat and unwrinkled. Lastly, after we had dressed our model, we had them go on the set, and we shot pictures of them. We learned that the way that they're presenting themselves; from the angle in which they are holding their face, to their body positioning was all extremely important. But, in the end, we took some great photos.
Later on that day, after lunch, we had the chance to go into Brooks Brothers in Midtown. Let me tell you... the place was HUGE. They had over 4 floors, which included a grand staircase, a virtual golf simulator, pool tables, and more. We got the grand tour of the store, and were taught all of Brooks Brothers history, marketing strategies, and store presentation. It was a very beneficial experience because we learned different aspects of retail.
That night, we ended up getting dinner on our own with friends. The group that I was in decided to get New York style pizza at a local restaurant next door to our hotel... it was amazing. It had a slice of Baked Ziti pizza and vegetarian pizza, both slices were HUGE but it tasted delicious. After dinner, we were going to see the Broadway show, Kinky Boots. So, after everyone got ready, we headed to the show. It was filled with humor, drama, and romance... and it was great. Not to mention, our seats were spectacular. Overall, it was a great night, and I would highly recommend seeing it if you have the chance!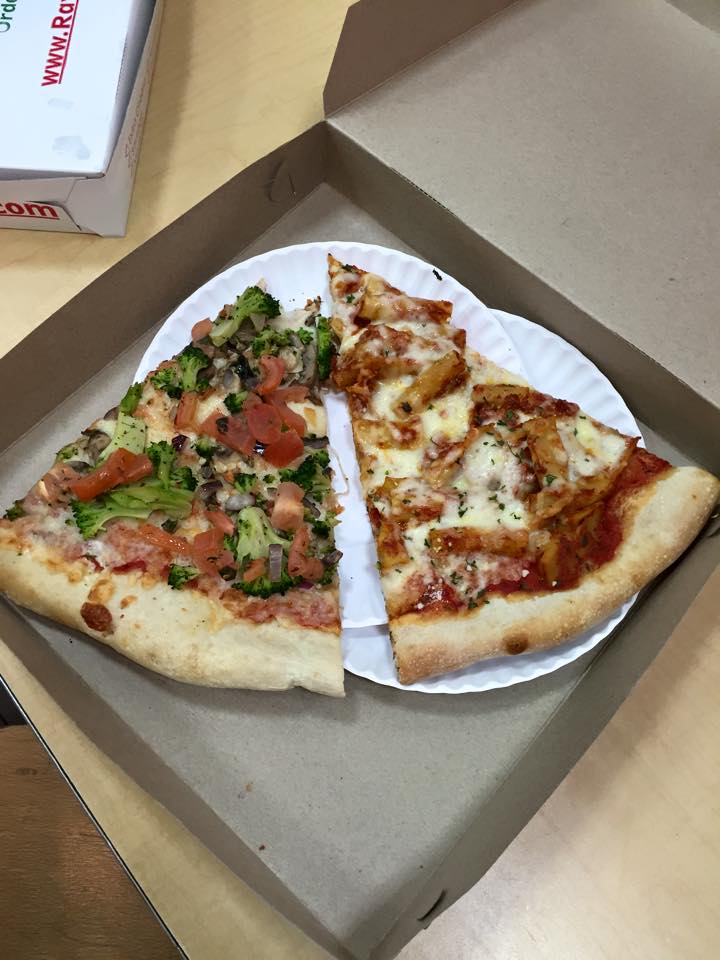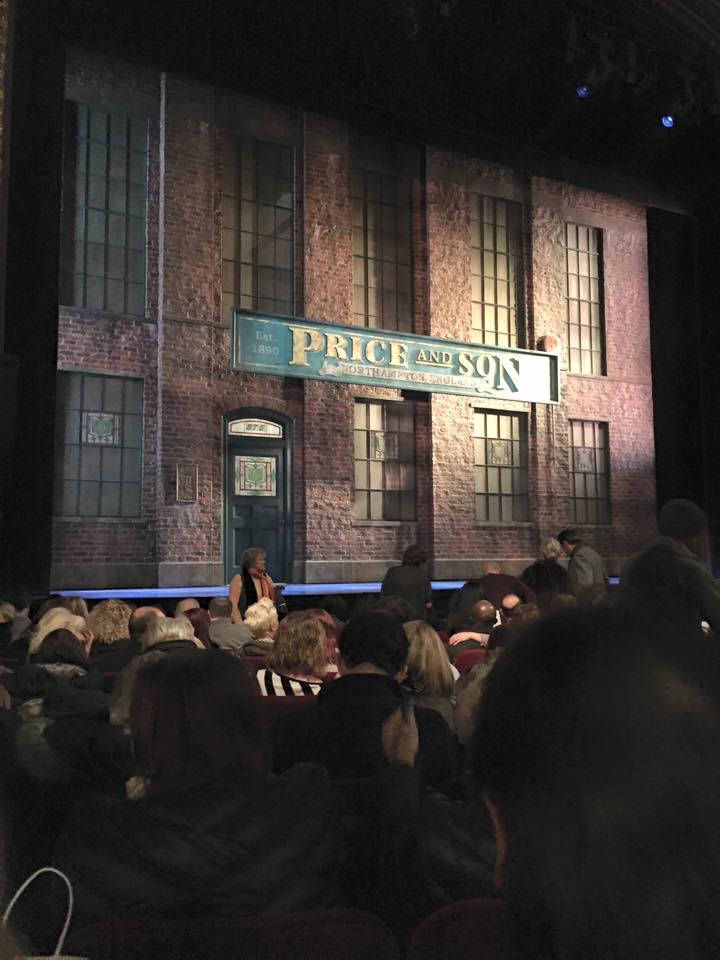 DAY FOUR:
THE HAT Shop
The last and final day was quite the adventure. On our way to Soho for our last seminar, we stopped by a Cronut shop to try our hand at tasting one. If you don't already know what I Cronut is, it is a donut/croissant -- a combination that can't be beat! Since New Yorkers and tourists LIVE for Cronuts, the line outside the shop was about 50 people long... and that was over an hour before the shop even opened! So we waited... and waited... and waited, but nothing. We were so far back in the line that one of the employees told us that they were going to run out of Cronuts by the time it was our turn. So, instead of waiting, I ended up just going inside and buying a chocolate croissant, it was incredible. One of the best croissants I have ever tasted!
After that experience, we headed over to The Hat Shop, to talk to the owner, Linda Pagan. She was so fabulous and an absolute diva. She told us how she got into the hat business and her personal love for millinery. In case you were wondering, the hats that she designs are mostly worn during the Kentucky Derby... so they're extravagant and loud! Linda was so engaging and taught us a lot about having fun with fashion and being who you are.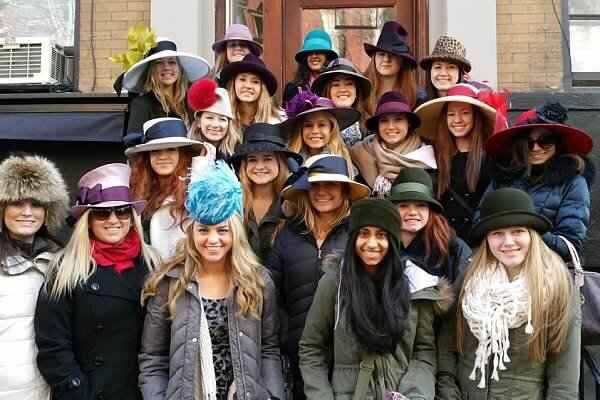 I hope you enjoyed living vicariously through my trip to New York City,